ORANGE-FLESHED SWEET POTATO IN MALAWI, AFRICA
Our sweet potato farming project is a simple and sustainable approach to overcome malnutrition, a major health issue for mothers and children in Malawi. We are helping farmers to grow improved varieties of orange-fleshed sweet potatoes – high yielding, rich in Vitamin A, and they taste good too!
Malnutrition is a major problem
The staple diet is nsima with little protein and very few vitamins
Locally grown white sweet potato contain fewer vitamins
Farmers cannot afford to purchase the vines needed to plant improved varieties
We support more farmers to grow orange-fleshed sweet potatoes
Farmers share vines with their neighbors at no cost
Pre-school teachers provide a sweet potato meal for every child attending  pre-school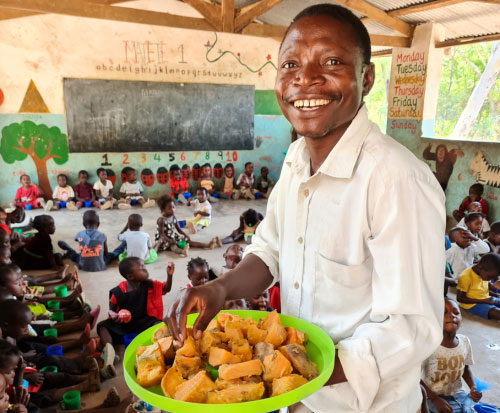 FARMERS INVOLVED EACH GROWING SEASON
BUNDLES OF VINES DISTRIBUTED TO EACH FARMER
KILOS HARVESTED IN THE FIRST TRIAL SEASON
Sweet Potato Farming in Malawi, Africa
Achievements and Future Plans
We are introducing new varieties of sweet potatoes into Nkhata Bay District. These new varieties are being grown in all our pre-schools and by many farmers in Nkhata Bay District. We hope to secure additional supplies of the improved sweet potato vines and tubers to expand the reach of the program.
Sweet potato vines can be planted in two different ways – either to multiply the sweet potato vines or to produce a higher yield of the crop. The farmers start with 100 tubers each and are encouraged to plant some which will produce additional vines which can be shared with other local families. This benefits more people and is a truly sustainable way to encourage communities to help each other.
$28 could buy five bundles of sweet potato vines
Title
Your content goes here. Edit or remove this text inline or in the module Content settings. You can also style every aspect of this content in the module Design settings and even apply custom CSS to this text in the module Advanced settings.
Why It Is So Important
Malnutrition is a major problem in Malawi. The staple diet is nsima, a porridge made from cassava or maize flour, which contains little protein and few vitamins. Although sweet potato farming in Africa is not uncommon and some white-fleshed sweet potatoes are grown in our area, the higher yielding orange-fleshed sweet potatoes which are rich in Vitamin A and other nutrients, are not grown in the north of Malawi.
Sweet potatoes are not an indigenous plant in Malawi. The variety we are helping communities to grow is an improved orange variety developed by CIP (International Potato Centre) who has a research and sweet potato farm in Mulanje, southern Malawi. The orange-fleshed sweet potato is not genetically modified but has been developed through conventional breeding techniques to produce a variety higher in Vitamin A and yield as compared with the sweet potatoes usually grown in Malawi. You can find out more here.
However, farmers and smallholders cannot afford to purchase the vines needed to plant these improved varieties.
In an effort to diversify and enhance the diet of the local community, Ripple Africa is making it possible for farmers to grow these new varieties of orange-fleshed sweet potatoes to improve local people's diets. Farmers pass on vines and asking them to share their surplus vines with neighbors so more people can benefit. As part of this project, we are also educating householders about the best way to cook and use sweet potatoes in family meals to improve their nutritional value. In addition, Ripple Africa pre-school teachers provide a sweet potato meal for every child attending their pre-schools to help combat malnutrition amongst these young children so they can thrive.
What We Have Achieved
This project builds upon a pilot project in which CIP (The International Potato Center) was funded to scale up the introduction of orange-fleshed sweet potatoes which were higher yielding and contained higher levels of Vitamin A. They approached Ripple Africa to manage the distribution of the new sweet potato tubers in the north of Malawi and then report on the progress. Due to the success of this initial project, Ripple Africa decided to continue the project, expanding its reach so more people could benefit from these nutrient-rich potatoes.
Currently, Ripple Africa is being supplied with sweet potato tubers from a supplier called Nankhwali Farm. Nankhwali focuses on five orange-fleshed sweet potato (OFSP) varieties: Chipika, Kadyaubwerere, Kaphulira, Mathuthu, and Ana Akwanire.
Ripple Africa works in partnership with the District Agriculture team to carry out a large scale distribution operation, giving bundles of vines to 1,300 farmers within five geographical areas of Nkhata Bay District. In each bundle, there are 100 x 30cm tubers. The District Agriculture team and Ripple Africa are excited to expand this which is why it is working so well.
These new varieties are also being grown in all our pre-schools and by many farmers in Nkhata Bay District.
How We Work
Our sweet potato farming project in Africa is simple. The farmers start with 100 tubers and are asked to plant a portion for vine reproduction and the remaining to produce sweet potatoes. At harvest, they keep some of the vines for replanting and share the rest with other local families to multiply the number of people benefitting.
District Agriculture and Ripple Africa environmental staff monitor how well the potatoes grow, measure yields and assist farmers with the ongoing distribution of their surplus tubers.
The Project's Future
We will continue to purchase the initial stock of clean orange-fleshed sweet potato vines from Vumbwe research center in the south of Malawi and select and train 10 commercial multiplication farmers who will multiply the vines for distribution to other farmers thus making the project sustainable.
We will continue working in partnership with District Agriculture Department teams to support the farmers and to help them maximize their yields.
We have seen improved yields from these sweet potatoes and anticipate that this success will continue. Thousands of households are growing and eating the more nutritious varieties of sweet potatoes, significantly improving their diet.
This project addresses the following Sustainable Development Goals: