PRESCHOOL EDUCATION IN MALAWI, AFRICA
We run eight preschools, providing an early childhood education to over 900 children every day in Malawi. The children learn the alphabet, numbers, colors, shapes and much more. Singing, dancing and play are important parts of the day, and at the end of each morning, the children receive a nutritious meal of sweet potatoes. Since Ripple Africa opened its first preschool, more than 5,000 children have benefited from the flying start that Ripple Africa is giving them.
Do you want to help fund preschool education for hundreds of children? Find out how >
Early Childhood Education in Malawi, Africa
Achievements and Future Plans
We provide an early childhood education to over 900 children who attend our eight preschools each day. Every child who attends receives a nutritious sweet potato meal and since we started, more than 5,000 children have passed through our preschools, many of whom have now finished both their primary and secondary education. We will continue to support and run our eight preschools and provide the teachers with additional training opportunities.
Our Preschool Coordinator manages all eight preschools and 27 teachers, monitoring them regularly. We conduct ongoing regular training sessions for the teachers and children are encouraged to come to school to get a sweet potato breakfast. Not only are our preschools effective, but they are also fun!
$14 a month could send two
children to preschool
Title
Your content goes here. Edit or remove this text inline or in the module Content settings. You can also style every aspect of this content in the module Design settings and even apply custom CSS to this text in the module Advanced settings.
Why It Is So Important
Ripple Africa supports eight preschools in Nkhata Bay District by:
paying the salaries of three teachers per preschool, three floating teachers who cover staff absences and a PreSchool Co-Ordinator who manages them
providing resources such as toys, blackboards, chalk, pens, books, supplies, tea and sugar
maintaining and improving preschool buildings as necessary
paying for the preschool teachers to grow sweet potatoes which they prepare and feed to the children every day
aiding the preschool teachers through the involvement of overseas volunteers who often help in the classroom.
Most people recognize the critical link between the important foundation which early childhood education provides, and the level of academic success students achieve throughout their lives. These early formative years are essential to a child's education and development overall.
The Malawian government recognizes this link and encourages communities to set up local preschools. However, with no financial support, the reality is that preschools are almost always run on a voluntary basis without any resources, and most teachers work for free, often in buildings which are unsuitable and even unsafe for children.
Ripple Africa is making a difference to early childhood education in Africa by ensuring that all the preschools it supports are equipped with the essential components necessary to providing this foundation:
enthusiastic teachers
varied learning resources
a safe and fun place to learn
co-ordinated support from Ripple Africa at a senior level.
Ripple Africa is helping communities enhance the well-being of its vulnerable children by providing a quality early education and a nutritious meal of sweet potatoes for hundreds of children on a daily basis. For those children who are orphans and/or live in extreme poverty and struggle to find enough to eat, the sweet potato project ensures that each child who attends preschool receives a hot meal. Not only does this improve concentration, but it also creates an incentive to attend. In addition to the academic and health benefits made available to the children, this program is providing employment opportunities for adults in the community who are hired and trained as preschool teachers. Teachers are also able to supplement their income by growing the sweet potatoes they serve to children daily. To find out more, read about our sweet potato project.
What We Have Achieved
Ripple Africa supports preschool education in Malawi by helping eight preschools locally in the villages of Chiomba, Chitungulu, Kachere, Katenthere, Matete (which has two preschools, Matete 1 and Matete 2), Mazembe, and Mwaya.
We pay the salaries of 27 teachers and a manager.
We provide regular professional training for all our staff.
We replace toys and other resources regularly as they are well used!
Over 900 children attend these pre-schools and receive a hot meal each day.
We have rebuilt three

preschools and have constructed a new preschool for children who were previously attending class

at the local clinic.
We

regularly maintain and repaint all our preschools to provide a safe environment

for the children.
How We Work
Our Preschool Coordinator manages all of our eight preschools and teachers, and he monitors them regularly. We make the children's education fun and effective, and they are encouraged to keep coming to school for their sweet potatoes which are grown and provided by the teachers. We have a robust safeguarding policy to ensure that all children attending are protected.
The Project's Future
Early childhood education is crucial to a community's long-term development. Therefore, we will continue to support our eight preschools by paying the salaries of teachers, maintaining the buildings and providing resources. We will also provide the opportunity for volunteer overseas preschool teachers to work with our staff to advance their training and effectiveness as educators.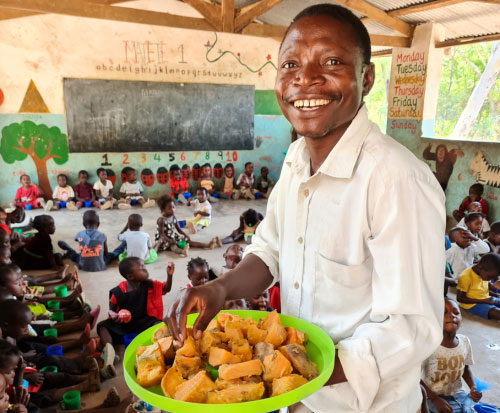 This project addresses the following Sustainable Development Goals: