Music therapy volunteer Ruaridh has written a story about his time at Mwaya which is reproduced below. This beautifully written emotive piece highlights how much the community welcome overseas volunteers and how our volunteer placements create lifelong friendships formed from the opportunity to work together.
When I arrived in Malawi to spend time with Ripple Africa taking part in music projects, I couldn't foresee just how much the music I'd play and make, and the friends I'd make while doing so would affect me. It started on my first weekend in Mwaya, where I was sat on the beach playing my guitar. One of the day watchmen walked past and noticed me, he finished up what he was doing and came back over and introduced himself as Aggrey and asked if he could have a turn playing my guitar, to which I obliged. He played the guitar in his own unique way and sang to me, while we both danced. Chiwino, the gardener, and Kirti, another volunteer joined, and we all danced while Aggrey played and sang to us. Once we were finished, I got on with my day, not thinking too much of it. A few days later, Aggrey came to me while I ate breakfast and told me that he'd written some lyrics for me to sing to the children at the home visits and the disability groups. It was called The Future is in Your Hands. I sat with him for a while, and we worked out some chords and some melodies and then we had our song. It was in Chitonga which was a bonus as I was already trying to learn some songs in the local language for my projects. Aggrey told me that he is a composer and that he practices singing very often for his church choir, sparking a friendship between us based on music. We began to play and write together a lot, creating a catalogue of songs in Chitonga about disabilities, education, and God.
I met another musical friend, Elvis, one evening. I was walking from Matete to Mwaya when he appeared and introduced himself, asking questions about my guitar. I got it out and we played and sang together as we walked to Mwaya. He told me that he plays keyboard and sings in his church choir and that I should come along to his church. We exchanged phone numbers and said goodbye, and this was how it was left for a while, until I seen him again at said church. He was disappointed that I hadn't brought my guitar and I too felt annoyed at myself. I enjoyed the service so much that I told the pastor that I would play the following week, which was also my final Sunday in Malawi.
At the same time, I would be working with Matilda every day, doing music therapy with her disability groups and at her home visits. She learned the songs that Aggrey had written, and I discovered that she had a beautiful singing voice and aspired to become a singer as a child. I invited her to come to Mwaya to play with Elvis, Aggrey, Chiwino and I on my last Friday at Mwaya, and she agreed to join us.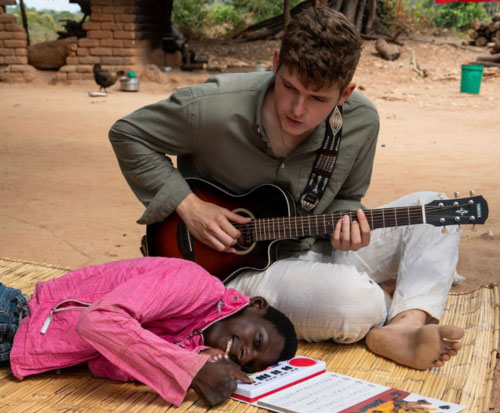 Finally, one day when I went to Faston's shop to collect my bike, he invited me inside to listen to music. I found out while listening that it was actually his music and that he had recorded it in a real studio a few years prior. I invited him to join us on Friday too.
Through the week, I invited Elvis to Mwaya to practice for our performance at the church, with Aggrey also joining in. I learned some popular Malawian hymns from Elvis, and I taught him Aggrey and I's songs and we practiced almost every night that week for the big jam on the Friday and also for the service on the Sunday after. Finally, Friday arrived and Aggrey, Elvis, Chiwino, Faston, Matilda, and I all played through our original songs on the deck, recording the audio and getting lots of videos. We harmonized as we sang, and it was one of the best musical experiences of my life. Finally, Sunday came and Aggrey, Elvis, and I met at the Mwaya Pentecostal Revival Church. We got up in front of a packed church and I was feeling the nerves, we began to play one of the original songs which was in Chitonga and almost immediately the church broke into cheering, we then played Amazing Grace, and finally one more original song. The cheers were unlike anything I ever had performing at home, and it warmed my heart. I still keep in touch with Aggrey who has decided to continue the band even though I have returned home and sends me videos weekly of their meetings. I will never forget my band in Malawi.